The Fret-King® Corona epitomises Fret-King's holistic approach to guitar design. Retrospective, classic, yet forward looking. This is a guitar ready to take on any musical style.
Upending the norm, with an eclectic selection of pickups, a neck mounted Soapstack™, mid-position Dallas Special™ and the Fret-King® Prizefighter™ in the bridge, along with some really neat tonal circuitry and switching, the Wilkinson WV6SB vibrato loaded Corona Custom is truly one of the most versatile and useable guitars on the planet. At the leading edge of modernity, capable of an almost limitless range of tones, ready to take on any musical style and be that crucial 'multi-tool' essential for the journeyman player.
Corona Custom Features:

Body:
The Three-piece body with 4" centre block is constructed from selected American alder. The contemporary style body, with its tight edge radiuses casts an assertive shadow. The unique reduced profile neck joint and subtly extended cutaways offers enhanced upper fret access, and the front and rear comfort cuts make the Custom a pleasure to wear. A solid four bolt neck joint ensures the constructional and mechanical integrity which provides a platform for great sustain and the harmonious, authentic tonalities of the Corona Custom.

Headstock:
The signature Fret-King headstock ensures perfect balance, classic looks, and great visual appeal.

Machine Heads:
Wilkinson® WJ05 pin-lock locking machine heads with staggered string post heights provide correct string rake angle for snag free, smooth vibrato action and correct playing tension.

Nut:
43mm Graph Tech® self-lubricating nut, smooth and friction free.

Neck:
Light oil finished, hard rock Maple with classic 'soft C' profile for instant comfort, speed, accuracy, and a luxurious, 'played in' feel.

Fingerboard:
Premium Indian Rosewood for durability, and outstanding tonal transfer with a 10" radius for a super comfortable, responsive, positive playing feel.

Scale Length:
25.5" / 648mm.

Frets:
22 Medium profile hi-durability nickel silver frets ensure accuracy, comfort, and an overall feel.

Pickups:
A carefully curated set of Fret-King pickups enables the Corona Custom to deliver a phenomenal range of tones.

In the bridge position, the custom designed Fret-King Prizefighter™ pickup, created by Trev Wilkinson delivers rich, fat mid-range with outstanding sweet highs that clean up magnificently, with bright split coil tones that retain plenty of output.
Trev's mid position Fret-King Dallas Special™ hot single coil and unique Fret-King Soapstack™ stacked soap bar style neck pickup imbue the Corona Custom with an extraordinary breadth of tones, which cover the entire gamut of the two and three pickup, bolt and fixed neck classics.
This creative pickup configuration is managed by an equally capable switching and wiring arrangement designed to max out the tonal potential of the guitar, and can allow the Corona Custom to be a two single coil, or a two twin coil pickup guitar, it can be an "all pickups on" guitar for a huge tone, or it'll produce the classic out of phase tones in positions two and four on the five way lever switch. In fact, there's not much the Corona Custom can't do, and everything it does, it does with customary Fret-King elan and aplomb.
Control Functions:
• Ergonomic five-way lever switch selects neck, neck and middle out of phase, middle only, middle and bridge out of phase, or bridge pickup.
• Master Volume.
• Middle position tone control covers neck mounted Soapstack pickup and mid position Dallas Special pickup.
Push/Push switch; Down position, (function bypass), up position, (function activated), engages neck and bridge in switch positions 1 & 5, as in twin double coil guitar, and in positions 2 & 4 engages ALL pickups.

Vibrato bridge:
The Wilkinson® WV6 vibrato bridge featured on the Fret-King Corona Custom is a tour de force of design and technical detail. The ground steel base plate corner gives the WV6 authentic period looks, and the subtle "5+1", 6 screw design ensures positive location and solid lateral and longitudinal stability.

Perpendicular bend, high grade steel saddles ensure spot on intonation, enhanced tonality, with 'snap'. and classic vintage tone.

The stagger drilled steel block, with stepped forward 1st and 4th strings, working in concert with the string tree free headstock loaded with staggered post height locking tuners and Graph Tech® top nut ensure an outstanding return to zero pitch accuracy.

The easily adjusted 'push-in' Delrin®-bushed arm with variable arm height and tension provides the arm position and feel that suits your vibrato style.
Carry Bag:
The Corona Custom comes with a Fret-King luxury gig bag.

The Corona Custom is an original Fret-King® design created by the UK Fret-King® design team.
---
---
About Fret King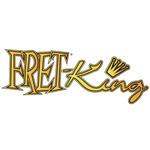 The Fret-King 2023 Collection brings together five or more decades of skill and experience in understanding what works and translates emotion into instruments which speak with your voice. Read on...



Read the Fret-King Back Story HERE. Visit Fret-King.com