The Marca American Vintage reed is an alliance of exceptional knowledge. Marca use exclusively Premium select cane associated to an American unfiled cut will give you a Legendary Jazz Sound.
Features & Benefits:
• Especially suited for jazz.
• Consistent, durable and long-lasting.
• Increase projection and incredible control throughout full range of instrument.
• High Quality Made.
• The Marca American Vintage Unfiled reeds are available for all saxophones.
---
About Marca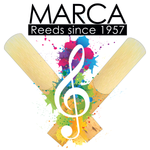 Marca uses only the finest French cane, painstakingly selected and aged for optimum quality. Today, clarinetists and saxophonists the world over can enjoy the experience of playing Marca reeds, made from the finest cane by the most exacting craftsmen.
Read about the Marca story in Gear News HERE