MARCA Excel reeds are the latest result of Marca's intensive research and design. The Excel is crafted from Marca's choicest cane and boasts an excellent cut that allows superior vibration in collaboration with the mouthpiece curve. The results in a more balanced tone quality and sensitive response throughout the instrument's range. Players will especially enjoy the crisp attack the Excel provides during articulated passages, as well the ease afforded to high-register notes.
Features & Benefits:
• Designed for all-around use with a special emphasis on wind ensemble, orchestral and chamber play.
• Excellent and fastest response in all registers.
• Allows for attack throughout range of instrument with added ease in the high register.
• Marca reeds are hand-finished and made from only the French grown cane
• High Quality Made.
---
About Marca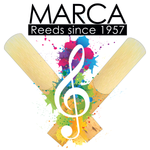 Marca uses only the finest French cane, painstakingly selected and aged for optimum quality. Today, clarinetists and saxophonists the world over can enjoy the experience of playing Marca reeds, made from the finest cane by the most exacting craftsmen.
Read about the Marca story in Gear News HERE