These artist quality reeds have been created by Marca in collaboration with the brilliant virtuoso performer / teacher Professor Paolo De Gaspari (Trinity Laban, Brimingham Conservatoire).
While professionals can benefit from these high-quality reeds' fine balance, rich timbre, and lively response, educators and students will fin them long-lasting and, most important, consistently playable, reed after reed, box after box. This reed produces an all-round sound, neither too dark nor too bright.
Features & Benefits:
• Designed especially by Paolo De Gaspari.
• The flexibility of the reed, to have all possibilities of control on the sound.
• The finest quality of cane, gives to Marca reeds the uniformity and balance and consistency of the reed strengths.
• The canes are selected one by one, producing high quality reeds, We must select the finest cane and control each one.
---
About Marca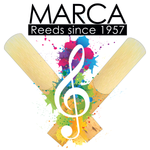 Marca uses only the finest French cane, painstakingly selected and aged for optimum quality. Today, clarinetists and saxophonists the world over can enjoy the experience of playing Marca reeds, made from the finest cane by the most exacting craftsmen.
Read about the Marca story in Gear News HERE