The low-profile version of our infamous Original tremolo, the 1000 Series Pro features the same string spacing as the Floyd Rose Original (.420") whereas the German Pro has a narrower spacing.
Available in a variety of nut sizes that will fit practically any electric guitar, the tremolo kit contains the bridge, springs & claw, mounting studs, and all hardware necessary for installation.
---
About Floyd Rose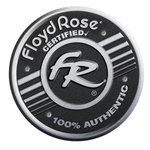 With the invention of the world's first locking vibrato system in 1977, Floyd D. Rose completely revolutionised the electric guitar, and with it a whole new generation of players. 40+ years later Floyd Rose offers a vast array of replacement vibrato systems, upgrades and spares, and are used and trusted by some of the most influential and famous guitar players on the planet.