This is a beautifully hand-crafted, lightweight tweed Lace Guitar Box Guitar Case with white piping accents, stitching, antique brass locking latch and soft handle, whilst on the inside, a rich red velvet lining along with neck and body supports, offers supreme instrument protection. There is also a compartment for guitars straps and accessories.
Internal Dimensions:
L = 83cm
W = 23cm
H = 10cm
Please note this case is specifically design to fit Lace Cigar Box Guitars in both 3 and 4 string versions.

Guitar not included.
---
About Lace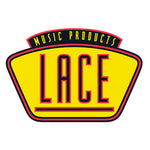 Retaining all the authenticity and charm that has appealed to creative musicians ever since Cigar Box Guitars were first crafted and played throughout the USA in the late 1800's, the underlying theme throughout the exquisite Lace™ Cigar Box instruments, is the professional luthier level of construction and superior hardware, offering excellent playability and exceptional tone.
 
Visually stunning with custom artwork, the Lace Cigar Box Guitar which is made in Southern California has a fresh sound, designed for ease of playability, delivering Rock, Alternative, Country, Blues or Jazz music on both the three or four string boxes.