No more screwing around! This snug-fit arm and collar ensures total ease while spinning, diving, and removing from the bridge.  Fits all authentic Floyd Rose tremolo systems including the Original, Special, 1000 Series, Non-Fine Tuner, and Pro. Kit includes tremolo arm mounting assembly.
To adjust the tension on the arm, you will need a 2 mm allen wrench (not included).
---
About Floyd Rose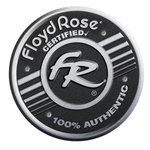 With the invention of the world's first locking vibrato system in 1977, Floyd D. Rose completely revolutionised the electric guitar, and with it a whole new generation of players. 40+ years later Floyd Rose offers a vast array of replacement vibrato systems, upgrades and spares, and are used and trusted by some of the most influential and famous guitar players on the planet.