Used by more professionals throughout the world than any other. No copy can duplicate the double-locking design of the Floyd Rose Tremolo System that allows you to lock your guitar in tune at the nut and at the bridge. The Floyd Rose Tremolo System is engineered like no other tremolo system. Its high quality steel parts are manufactured to exacting specifications to accommodate your 7-String guitar.
The tremolo kit contains the bridge, springs & claw, mounting studs, and all hardware necessary for installation.
---
About Floyd Rose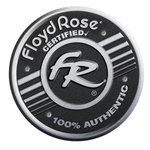 With the invention of the world's first locking vibrato system in 1977, Floyd D. Rose completely revolutionised the electric guitar, and with it a whole new generation of players. 40+ years later Floyd Rose offers a vast array of replacement vibrato systems, upgrades and spares, and are used and trusted by some of the most influential and famous guitar players on the planet.