The Floyd Rose Special is our Authentic version of a licensed Floyd Rose tremolo system manufactured in Korea exclusively for Floyd Rose. The Floyd Rose Special maintains design and features of an Original Floyd Rose, while utilizing zinc alloy saddles in place of steel and a zinc alloy sustain block in place of brass. The design specifications and high quality materials of the Special Series Floyd Rose bridge will hold up to the demands of today's performers.
The tremolo kit contains the bridge, springs & claw, mounting studs, and all hardware necessary for installation.
---
About Floyd Rose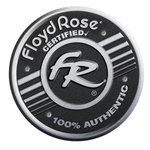 With the invention of the world's first locking vibrato system in 1977, Floyd D. Rose completely revolutionised the electric guitar, and with it a whole new generation of players. 40+ years later Floyd Rose offers a vast array of replacement vibrato systems, upgrades and spares, and are used and trusted by some of the most influential and famous guitar players on the planet.