The Fret-King® Country Squire™ is emblematic of the Fret-King ethos, a friendly and comfortable benchmark, blending the familiar with the contemporary, with innovative, progressive features.

Upending the norm and setting new benchmarks is the Country Squire Music Row™, named after that oh-so famous district of Nashville Tennessee, which is home to some of the best players, producers and studios ever, and where some of the greatest music in modern times has been written, performed, and recorded.

In the studio, and on stage, performers need finesse, versatility, power, reliability, and an instrument that will let them cover a whole gamut of rock and country tones. Twin neck mounted Fret-King Country Road™ single coils, a mid-mounted Dallas Special™ and bridge mounted Tapped-Fifty™, let the Music Row segue effortlessly between classic '50's tone, to "Southern Hot" and with the five way and Varicoil™ take on the mantle of any style which needs melodious neck twin coil sounds, brilliant highs with a ton of warm, sweet twang, and out of phase 'in between' tones.

Country Squire Music Row Features

Body:
The three-piece body with 4" centre block is constructed from selected American alder. The body, with its vintage edge radiuses casts a classic shadow. The unique reduced profile neck joint and subtly extended cutaway offers enhanced upper fret access, and the superb overall balance makes the Music Row a pleasure to wear. A solid four bolt neck joint ensures the constructional and mechanical integrity which provides a platform for great sustain and the emblematic tonalities of the Country Squire Music Row.

Headstock:
The signature Fret-King headstock ensures perfect balance, classic looks, and great visual appeal.

Machine Heads:
Wilkinson® WJ05 machine heads provide quick, accurate, stable tuning.

Nut:
43mm Graph Tech® self-lubricating nut, smooth and friction free.

Neck:
Light oil finished, hard rock Maple with classic 'soft C' profile for instant comfort, speed, accuracy, and a luxurious, 'played in' feel.

Fingerboard:
Premium Indian Rosewood for durability, and outstanding tonal transfer with a 10" radius for a super comfortable, responsive, positive playing feel.

Scale Length:
25.5" / 648mm.

Frets:
22 Medium profile hi-durability nickel silver frets ensure accuracy, comfort, and an overall feel.

Pickups:
A carefully curated set of Fret-King pickups enables the Country Squire Music Row to deliver a richly abundant variety of absolute classic tones.

The custom designed Fret-King vintage voiced Country Road™ covered neck single coil "pair", mounted in a genuine Bakelite pickguard with bevelled edges, are configured as a traditional hum cancelling pickup. The high output Dallas Special™ middle position single coil and tappable overwound Tapped-Fifty™ single coil bridge pickup, all created by Trev Wilkinson, give the Country Squire Music Row a very interesting edge.

For maximum performance and versatility, the Country Squire Music Row features a five way selector switch on an ergonomicaly designed angled switch plate, master volume, master tone, and Fret-King's unique Varicoil™ control which progressively winds the neck single coil 'pair' to just the neck coil, and in the tapped bridge pickup, brings in or out of play a series of additional winds which allow the pickup to segue seamlessley between a classic '50's tone to a more contemporary "Southern Hot". The five way allows for all the usual permutations including the classic out of phase settings, and then some.
Control Functions:
• Ergonomic five-way lever switch selects neck pair, neck single and middle out of phase, middle only, middle and bridge out of phase or bridge pickup.
• Master Volume.
• Tone Control: Outer control master tone, inner control, Varicoil progressively rolls neck pair of Country Road™ pickups to the neck position Country Road and/or adds/subtracts the additional winds in the Tapped Fifty bridge pickup.
Bridge:
Enhancing that tonality is the unique Wilkinson® WTB bridge featuring a steel baseplate which surrounds and focusses the magnetic field of the Tapped-Fifty bridge loaded pickup. Adjustable, pre-intonated barrel style natural brass saddles allow spot-on tuning, and two strings per saddle solidly anchor the saddles to the bridge baseplate ensuring the maximum mechanical coupling so crucial to giving you all the power and tone you need.

Carry Bag:
The Country Squire Music Row comes with a Fret-King luxury gig bag.

The Country Squire™ Music Row™ is an original Fret-King® design created by the UK Fret-King® design team.

---
---
About Fret King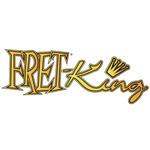 The Fret-King 2023 Collection brings together five or more decades of skill and experience in understanding what works and translates emotion into instruments which speak with your voice. Read on...



Read the Fret-King Back Story HERE. Visit Fret-King.com