The Fret-King® Country Squire™ is emblematic of the Fret-King ethos, a friendly and comfortable benchmark, blending the familiar with the contemporary, with innovative, progressive features.

Fret-King is recognised for upending the norm and setting new benchmarks. If you could only take one guitar to your desert island, it could very probably be the Fret-King Country Squire Semitone De Luxe™, one of the most versatile guitars on the planet!

A veritable 'Swiss army knife' of a guitar, featuring a custom designed, authoritative Fret-King neck position Alnico V Focusfield™ mini double coil pickup, mid position Fret-King Dallas Special™ hot single coil and bridge mounted Powertwin™, combined with custom switching, Varicoil™ and an outstanding Wilkinson® WVT vibrato bridge. If there's a style of music this wunderkind can't cover, we'd love to know about it.

Country Squire Semitone De Luxe Features
Body:
The two-piece centre jointed chambered body is constructed from selected American alder. The body, with its vintage edge radiuses casts a classic shadow. The unique reduced profile neck joint and subtly extended cutaway offers enhanced upper fret access, and the superb overall balance makes the Semitone De Luxe a pleasure to wear. A solid four bolt neck joint ensures the constructional and mechanical integrity which provides a platform for the great light and airy sustain characteristics and emblematic tonalities of the Country Squire Semitone De Luxe.

Headstock:

The signature Fret-King headstock ensures perfect balance, classic looks, and great visual appeal.

Machine Heads:

Wilkinson® WJ05 pin-lock locking machine heads with staggered string post heights provide correct string rake angle for snag free, smooth vibrato action and correct playing tension.


Nut:

43mm Graph Tech® self-lubricating nut, smooth and friction free.



Neck:

Light oil finished, hard rock Maple with classic 'soft C' profile for instant comfort, speed, accuracy, and a luxurious 'played in' feel.


Fingerboard:

Premium Indian Rosewood for durability, and outstanding tonal transfer with a 10" radius for a super comfortable, responsive, positive playing feel. 

Scale Length:

25.5" / 648mm.



Frets:

22 Medium profile hi-durability nickel silver frets ensure accuracy, comfort, and an overall feel.

Pickups:
In line with Fret-King's philosophy of thoughtful innovation, the Semitone De Luxe is loaded with a visually striking, and tonally diverse set of Fret-King pickups which deliver a phenomenal range of tones. The custom designed Fret-King neck position Alnico V Focusfield™ mini double coil pickups, created by Trev Wilkinson, speak authoratively, with a clearly defined focus, authentic tonality, depth and power. In the mid position Fret-King Dallas Special™ hot single coil is redolent of the outer edge of the single coil pickup voice, feeding in power with great dynamic control. The trio is completed by the bridge mounted Powertwin™ a hot double coil of immense capability.
The unique and eclectic pickup configuration provides for a depth of tonal possibilities approached by few other guitars. The breadth of control over the pickups, using the dynamics of the master volume and dual concentric master tone control and Fret-King's Varicoil™ control, allows either the bridge-mounted Powertwin or the neck mounted Focusfield double coil pickups to roll smoothly and progressively to single coil. This offers players an almost limitless range of benchmark tones. Then, flick the ergonomically positioned selector switch down to the bridge position, roll the Varicoil back, roll the tone on and it's direct to classic single coil bridge tone, in a 'three single coil classic'. Roll the Varicoil forward, and the Powertwin leaps to life. Click up one for a beefed up classic 'out of phase' tone position, bringing in the centre mounted Dallas Special. Click up to the Focusfield, roll the tone back, crank up the gain and you find classic 60's blues tones waiting for you!
Control Functions:
• Ergonomic five-way lever switch selects neck, middle or bridge pickup, with hum cancelled out of phase setting in positions two and four.
• Master Volume.
• Tone Control: Outer control master tone, inner control, Varicoil progressively rolls neck mounted Focusfield pickup and/or Bridge mounted Powertwin pickup from double coil to single coil.
Vibrato bridge:

Enhancing that tonality is the unique Wilkinson® WVT bridge. This twin post, hybrid 'wave' vibrato features a heat-treated steel baseplate with two strings per pre intonated, adjustable brass saddle to solidly anchor the saddles to the bridge baseplate, ensuring the maximum mechanical coupling so crucial to giving you all the sustain, tone and power you need.
 
The magic combination of the Wilkinson vibrato bridge, staggered post height machine heads, Graph Tech friction-free top nut, stagger drilled vibrato block and perfectly located saddles with adjustable, provide great ergonomics and playing feel, and ensure superb return to zero, whatever the whammying. Thoughtful innovation includes an easily adjustable height and swing tension vibrato arm, adding to the exceptional playability and supreme usefulness of the Fret-King Semitone De Luxe.
Carry Bag:
The Country Squire Semitone De Luxe comes with a Fret-King luxury gig bag.

The Country Squire® Semitone De Luxe™ is an original Fret-King® design created by the UK Fret-King® design team.
---
About Fret King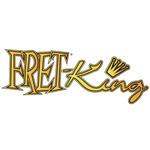 The Fret-King 2023 Collection brings together five or more decades of skill and experience in understanding what works and translates emotion into instruments which speak with your voice. Read on...



Read the Fret-King Back Story HERE. Visit Fret-King.com