Synonymous with the needs of the journeyman bass player, delivering outstanding tone, feel and balance, the Fret-King® Perception™ Custom speaks to the bass player's love of tradition and introduces thoughtful innovation.

One of the electric bass's most enduring styles the Perception™ has been the instrument of choice for independent thinking bass players for nearly three decades. The enduring style, superb balance, comfort and feel of the Perception™ are exactly what works, with a contemporary twist that remains friendly and comfortable.
Our decades of knowledge in tonewood selection and attention to detail in construction methods, electronics, hardware, and pickups are all crucial in the creation of the Fret-King® Perception™ Custom.
Perception™ Custom Features 
Body:
The selected American alder body features an extended neck joint which all coalesce to maintain the Perception Custom's elegance and purity of line, and ensure the foundations of a constructional integrity which provides strength, superb resonance, amazing sustain and a truly epic bass tone.

The unique reduced profile neck joint and subtly extended cutaway offers enhanced upper fret access. The superb overall balance and 'Forearm Scoop', make the Perception™ Custom a pleasure to wear.

Headstock:
The signature Fret-King headstock ensures perfect balance, classic looks, and great visual appeal.
Machine Heads:
Wilkinson® WJBL 750 mini lightweight machine heads contribute to the great balance of the instrument and provide quick, accurate, stable tuning.

Nut:
42.5mm Graph Tech® self-lubricating nut, smooth and friction free.

Neck:
Light oil finished, hard rock Maple with classic profile for instant comfort, speed, accuracy, and a luxurious 'played in' feel.

Fingerboard:
Premium Indian Rosewood for durability, and outstanding tonal transfer with a 10" radius for a super comfortable, responsive, positive playing feel. 
Scale Length:
34" / 864mm.

Frets:
22 Medium profile hi-durability nickel silver frets ensure accuracy, comfort, and an overall feel.
Pickups:
Featuring the quite outstanding Aguilar® 4SD-D1 pickups mated to Aguilar's most flexible active pre-amp design, the 24v OBP-3PP, providing three discrete bands of cut and boost of +/-18dB at 40Hz, +/- 16dB 400Hz or 800Hz selected by a mini toggle switch and +/- 16dB 6.5 kHz and arrangement, which left flat, lets the traditional natural passive tones of the Perception Custom shine, and when engaged creates a tonal palette which goes straight into ultimate bass territory.

Control Functions:
• Master volume.
• Blend control.
• Active Aguilar OPB3 Pre-amp.
• Tone Control;
Outer +/- 18dB @ 40hz.
Inner +/- 18dB @ 6.5Khz,
Tone control (mid) +/- 18dB at either 400Hz or 800Hz.
• Mini toggle selects mid-range centre.
Bridge:
Energy, so crucial in retaining as much string energy as possible, is managed by the acclaimed Wilkinson® WBBC bridge. Tradionally straightforward, with steel base plate, and individually intonatable brass barrel saddles, the WBBC bridge has solidity, and stability, ensuring great sustain, rich harmonics and note perfect precision.
Carry Bag:
The Perception Custom comes with a Fret-King luxury gig bag. 
Available in four and five string versions.
The Perception™ Custom is an original Fret-King® design created by the UK Fret-King® design team.
---
About Fret King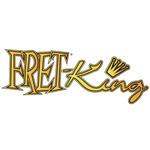 The Fret-King 2023 Collection brings together five or more decades of skill and experience in understanding what works and translates emotion into instruments which speak with your voice. Read on...



Read the Fret-King Back Story HERE. Visit Fret-King.com