2.0mm - Pack of 4 Picks
TUSQ ~ Man-Made Ivory Picks ~ Bi-Angle Bright Tone Picks ~ White

Feel it, Hear it! The Worlds first pick with tone.
The type of pick you use affects the tone you create. That's why we created TUSQ picks, the world's first and only pick with built-in tone. By formulating our proprietary material, we created a whole new class of picks, with highly resonant characteristics that produce three distinctive tones: Bright, Warm and Deep.

Choosing your pick tone is easy.
TUSQ pick tones are all coded by colour. White is our Bright tone. If you want a clear, crisp tone with lots of top end; choose from any of our white-coloured picks. Our vintage coloured picks deliver a Warm, smooth tone and TUSQ charcoal coloured picks go Deep to give you a full raw tone when you need it. TUSQ picks: The feel you like, the shape you want, and now the tone you crave.

Different shapes for different strokes.
We started off with three different shapes to compliment different playing styles and players preference. The Standard is probably the most popular shape on the market today. The Bi Angle give the player two unique tips to give you the flexibility to change tone and picking style mid performance. Lastly we have the Tear Drop. This shape help increase speed and accuracy for fast picking and shredding.
---
About GraphTech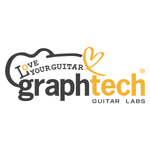 Graph Tech is renowned around the world for producing some of the most innovative and reliable nuts, saddles, bridge pins, bridges and pickup systems and are used on some of the biggest names in the guitar world. Through patented methods and proprietary techniques, Graph Tech has designed specific tone and performance enhancements that were once impossible to achieve.