There is no reason to accept a cheap plastic nut or saddle when you can add tone with NuBone
Plastic Nut and saddles vary greatly; many are made without any consideration for the instrument, tend to be too soft or too brittle, even hollow, killing tone and sustain.  NuBone is designed to enhance tone and is backed by 20 years of research and development.
NuBone is a derivative of Graph Tech's highly resonant TUSQ material, manufactured to very close tolerances under high heat and pressure.  We use specific ratios that contribute to NuBone's hardness, workability, appearance, and most importantly, guitar performance.  Odorless when sanded, it is strong, outlasting and outperforming plastic.  NuBone is the answer!
Measurements
Length
 – 
71.27mm
 / 
2.798"
Width
 –
3.20mm
/
0.126"
Height
 –
8.41mm
 /
0.331"
Note: All Graph Tech Nut and saddles are slightly long and wide to ensure extra room to achieve a perfect fit for your guitar. This extra material can easily be removed with fine grit sandpaper.
---
About GraphTech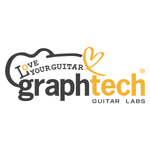 Graph Tech is renowned around the world for producing some of the most innovative and reliable nuts, saddles, bridge pins, bridges and pickup systems and are used on some of the biggest names in the guitar world. Through patented methods and proprietary techniques, Graph Tech has designed specific tone and performance enhancements that were once impossible to achieve.