Ratio Tuned Machine Heads ~ Electric 6 in-line / 2 Pin Classic ~ Offset
Ratio - Tuned Machine Heads are the first and only machine head to incorporate the different string gauges into the tuning equation. We balanced the individual gear ratios to each string dramatically simplified the tuning process. No more overshooting the G string or twisting away on the high E string. With Ratio, each half key turn equals one semitone change on all strings! Quicker, more accurate tuning on every string.
---
About GraphTech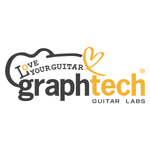 Graph Tech is renowned around the world for producing some of the most innovative and reliable nuts, saddles, bridge pins, bridges and pickup systems and are used on some of the biggest names in the guitar world. Through patented methods and proprietary techniques, Graph Tech has designed specific tone and performance enhancements that were once impossible to achieve.