TUSQ delivers the optimum frequencies from the strings to the guitar top, producing richer and fuller tone. 
Guitar makers and players agree... acoustic guitars come alive with TUSQ man-made ivory.  TUSQ is simply more efficient at transferring vibrations to your guitar top, resulting in big open lows and clear bell like highs.??
Bone and Ivory Nut and saddles have one inherent problem - they're made from organic materials, and therefore have inconsistent soft or dead spots because of their natural grain.  TUSQ Nut, saddles and bridge pins are precision engineered under high pressure and heat, specifically to govern which frequencies are transferred to your guitar top (tone), and which frequencies remain in the strings (sustain).??
TUSQ is consistent from piece to piece, and within each piece, to offer you harmonically rich tones without the problems associated with natural materials.
Measurements 
Length
 – 
48.72mm
/ 
1.918" 
Height
 –
8.66mm
/
0.341" 
E to E
 –
41.15mm
/
1.620"
Note: All Graph Tech Nut and saddles are slightly long and wide to ensure extra room to achieve a perfect fit for your guitar. This extra material can easily be removed with fine grit sandpaper.
---
About GraphTech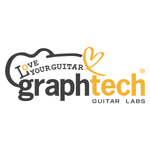 Graph Tech is renowned around the world for producing some of the most innovative and reliable nuts, saddles, bridge pins, bridges and pickup systems and are used on some of the biggest names in the guitar world. Through patented methods and proprietary techniques, Graph Tech has designed specific tone and performance enhancements that were once impossible to achieve.