GraphTech Resomax Tune-O-Matic Blank Saddles (6 Pack)

The 8503-00 model is the blank version of the 8501-00 model to upgrade or replace the existing saddles on a Gibson Nashville Tune-o-Matic bridge dated after 2000.

They are also the saddles loaded into our ResoMax NV2 Bridges and they are a drop-in replacement on tune-o-matic bridges with API stamped on the bottom.
---
About GraphTech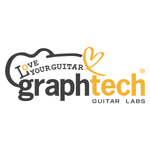 Graph Tech is renowned around the world for producing some of the most innovative and reliable nuts, saddles, bridge pins, bridges and pickup systems and are used on some of the biggest names in the guitar world. Through patented methods and proprietary techniques, Graph Tech has designed specific tone and performance enhancements that were once impossible to achieve.