Tough yet supple, like the brand of music they were named for, Marca Jazz unfiled reeds cater to the particular demands of the Jazz saxophonists. Marca's outstanding consistency and exceptional durability are combined with a special cut that provides excellent highs for increased projection. A Marca Jazz reed provides ease in the high register and superior articulation throughout the range of the instruments.
Features & Benefits:
• Especially suited for jazz, pop and rhythm & blues.
• Increase projection and incredible control throughout full range of instrument.
• Marca reeds are hand-finished and made from only the French grown cane.
• High Quality Made.
• The Marca Jazz reeds are available in unfiled for all saxophones.
---
About Marca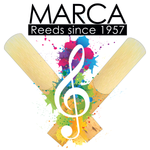 Marca uses only the finest French cane, painstakingly selected and aged for optimum quality. Today, clarinetists and saxophonists the world over can enjoy the experience of playing Marca reeds, made from the finest cane by the most exacting craftsmen.
Read about the Marca story in Gear News HERE