A Premium quality cane gives a perfect reed and on the basis of this criterion, we have created Marca Premium. Constantly seeking to improve quality, MARCA has, as it's long standing tradition, specially selected it's cane from very thick diameters in order to be able to extract the reed from the most dense part of the wood, and thus eliminating the soft part as much as possible.

Features & Benefits:
• Designed by artists for artists.
• Special wood repartition for fast reply and long life.
• Premium cane treatment process, for have thickness blank.
• High Quality made with diamond cut.
• French Tradition Cut.
---
About Marca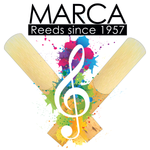 Marca uses only the finest French cane, painstakingly selected and aged for optimum quality. Today, clarinetists and saxophonists the world over can enjoy the experience of playing Marca reeds, made from the finest cane by the most exacting craftsmen.
Read about the Marca story in Gear News HERE