The MARCA PriMos are made with the same quality as all our Professional Reeds. It's specifically designed for young musicians. The first sensations are essential. They will appreciate the easy to play and the long last reply of MARCA PriMo.

Features & Benefits:
• Designed for all-around use with a special emphasis on wind ensemble and chamber play.
• Cut Specially design for beginner's.
• Full-bodied with a dark, ringing timbre.
• Marca reeds are hand-finished and made from only wild grown cane.
• High Quality Made and French Tradition Cut.
---
About Marca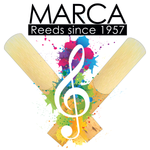 Marca uses only the finest French cane, painstakingly selected and aged for optimum quality. Today, clarinetists and saxophonists the world over can enjoy the experience of playing Marca reeds, made from the finest cane by the most exacting craftsmen.
Read about the Marca story in Gear News HERE