A melodic instrument for the most part, the flute has a clear and bright sound with a distinctive warmth, refinement, and subtlety to its tone.  
All models in the Odyssey range of high quality brass band and orchestral instruments have been meticulously designed down to the finest details by Peter Pollard. It's hardly surprising that, with over 50 years experience and having listened to the 'wants' of countless high profile musicians, this master craftsman is one of the most sought after custom brass and woodwind builders in the world.  
At Odyssey, we recognise the significant contribution that an instrument makes to the willingness of a student to persevere, practice, pursue the process of learning to control and master the instrument, enjoy making music and progress. 
 The Odyssey Debut 'C' Flute with its attractive price tag is just one of the features that have made it a favourite with musicians and teachers around the world. Designed by Peter Pollard to be easy blowing, with great tonality and exceptional playability, ensuring those first steps are giant leaps.  
The response, intonation and all around performance of the Odyssey Debut 'C' Flute coupled with the high quality materials, make this an ideal instrument for the first time player, teacher and professional musician. 
As a company producing some of the world's finest brasswind instruments, Odyssey recognise the fact that protection whilst travelling with a delicate instrument is paramount. To ensure players can maintain a high standard with this instrument, Odyssey has included a cleaning cloth and rod, and a durable ABS plush lined case takes all the worry out of commuting with such a delicate instrument. 
Specification 
Rolled tone holes

Nickel-plated body and

headjoint

Lip plate and embouchure hole designed

by Peter pollard

Silver-plated keys

Offset G key

Stainless steel rods, springs and pins

Adjustment screws

Quality pads

ABS plush lined case

Accessories: Cleaning cloth, cleaning rod, instruction leaflet
Taking proper care of your instrument will also help you produce the best sound quality possible, we recommend Odyssey and Ultra-Pure brand accessories.

Odyssey Brasswind is designed and created by UK Master Craftsman Peter Pollard and the UK Odyssey design team.
---
---
About Odyssey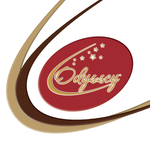 Exceptional instruments and essential accessories for students and advanced players. Odyssey Brasswind instruments and accessories have been painstakingly designed by British Master Craftsman Peter Pollard, one of the most sought after custom brass and woodwind builders in the world to produce instruments of breath-taking quality and supremely useable accessories. More...