The Alto Saxophone  is very much favoured to start with for beginners and is heavily played in classical, jazz, big band, concert bands as well as being the lead voice in a lot of other music from funk to classical chamber music.  The alto saxophone is slightly smaller than the tenor and looks and sounds as you'd expect a saxophone to. Compared with the tenor sax it is lighter, slightly quieter, takes less puff and less finger stretching. 
The  alto saxophone  is the best type of saxophone for beginners because they are the most common. When you are starting out on your  alto saxophone  journey, you'll need to become familiar with the sound of the saxophone by listening to music, especially jazz, and you're most likely to hear the alto saxophone.
All models in the Odyssey range of high quality brass band and orchestral instruments have been meticulously designed down to the finest details by Peter Pollard. It's hardly surprising that, with over 50 years experience and having listened to the 'wants' of countless high profile musicians, this master craftsman is one of the most sought after custom brass and woodwind builders in the world.  
At Odyssey, we recognise the significant contribution that an instrument makes to the willingness of a student to persevere, practice, pursue the process of learning to control and master the instrument, enjoy making music and progress. 
With a luscious polished brass lacquered body, offset with clear lacquered parts, the aesthetics of the 'Eb' Alto Saxophone from the Odyssey Debut Series speak for themselves.  
A real eye catcher without doubt, but it's also the performance to cost ratio that make this beautiful Alto Sax a winner. Players from students to seriously professional musicians have commented on the excellent response, and it has been designed to provide comfort and security when performing in the high register, while maintaining a beautiful warm sound in any range - with superb intonation. As with all Odyssey instruments only the highest quality materials are chosen in the construction. 
Reliable Beginners Instrument 
This Alto Sax is ideal for  beginners due to its relatively  small body  which is comfortable to hold.  The combination of the instruments size and range makes it extremely versatile and a popular choice. 
Strong & Durable Body 
Having been designed with affordability, durability and comfort in mind, the  body is fully braced  for strength helping it stand up to the demands of regular play and transport to and from lessons. The bell joint, neck and stack adjusting screws can be used to make the set-up more comfortable. The saxophone's brass body is also finished with a protective lacquer. 
 
Smooth Response & Tone 
Blue steel springs provide a  robust and durable  action and give a brightness and snap to the instrument's sound whilst domed reflectors aid projection. This Alto Sax has a light, free blowing response that will reward new players with excellent intonation and a stability and evenness throughout the registers. Precision drawn tone holes allow maximum air passage through the instrument.  An auxiliary high F# key provides extra versatility. These features make it easy for students to start seeing results fast.  
As a company producing some of the world's finest brasswind instruments, Odyssey recognise the fact that protection whilst travelling with a delicate instrument is paramount. To ensure players can maintain a high standard with this instrument, Odyssey has included various essential accessories, whilst a plush lined, Zero-gravity 'backpack' hard foam, canvas covered case with shoulder straps takes all the worry out of commuting with such a delicate instrument.

Specification 
Key:

Eb

 

Brass body

 

Lacquer finish

 




Engraved brass bell

 

Power forged keys

 

European

stainless steel

rods, springs and pins

 

Pearloid

keycaps

 

High F# key

 

Fine tuning adjustment

 

Quality pads and mouthpiece

 

Zero-gravity 'backpack' hard foam, plush lined, canvas covered case with shoulder straps 

Accessories:

 

Gloves, cleaning cloth, cork grease, neck strap
Taking proper care of your instrument will also help you produce the best sound quality possible, we recommend Odyssey and Ultra-Pure brand accessories.

Odyssey Brasswind is designed and created by UK Master Craftsman Peter Pollard and the UK Odyssey design team.
---
---
About Odyssey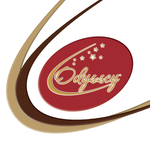 Exceptional instruments and essential accessories for students and advanced players. Odyssey Brasswind instruments and accessories have been painstakingly designed by British Master Craftsman Peter Pollard, one of the most sought after custom brass and woodwind builders in the world to produce instruments of breath-taking quality and supremely useable accessories. More...