Comprises: 
Polish cloth, weighted pull-thru sax swab, weighted pull-thru neck swab, multi-purpose duster brush, nylon mouthpiece brush, cork grease stick, care guide.
Suitable for soprano and alto saxophones. 
Attractively packaged in a self-sealed pack with euro slot for shop display.
How to use:
1. First take care of the mouthpiece and neck.
Remove the reed and use a cleaning swab to remove dirt from the mouthpiece. Be careful not to damage the tip of the mouthpiece when cleaning. Next, remove the moisture from the inside of the neck using a cleaning swab.  
2. Completely remove the moisture from the pads
If the pads are damp, use a cleaning paper to remove the moisture completely from the pad and the tone hole opening.

The keys need to be removed in order to clean the tone holes.
We do not recommend disassembling your instrument on your own. Instead, take it in to a music shop for maintenance.

Cleaning paper
Put a piece of cleaning paper between the pad and the tone hole and lightly press the key several times. Change the position of the paper and repeat this process two or three times.
• Do not pull the paper out while depressing the key.

3. Clean the inside of the tube with a cleaning swab.
Insert a saxophone cleaning swab into the bell and pull it through the neck joint to clean.

4. Remove dirt from the surface with a polishing cloth.
Use a polishing cloth to remove finger prints and dirt from the surface of the instrument.

5. Carefully clean the octave key
The tone hole of the octave key is small and easily clogged, so clean it with a tone hole cleaner. Be careful not to damage the tone hole with the metal tip of the tone hole cleaner.
---
About Odyssey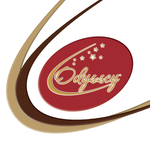 Exceptional instruments and essential accessories for students and advanced players. Odyssey Brasswind instruments and accessories have been painstakingly designed by British Master Craftsman Peter Pollard, one of the most sought after custom brass and woodwind builders in the world to produce instruments of breath-taking quality and supremely useable accessories. More...