The bass clarinet looks like a narrow saxophone in many ways, but it has a different acoustic profile. It matches the tonal quality of a soprano clarinet and operates in the key of Bb just like a soprano clarinet, but produces notes that are roughly one octave lower. The bass clarinet can be used for a wide variety of musical compositions and instrument arrangements, from symphony orchestras to quartets to marching bands to bluesy jazz bands. One of the main appeals of the bass clarinet is that it boasts among the widest tonal range of any wind instrument. The bass clarinet is capable of playing notes as low as a bassoon and as high as a Bb clarinet. Because of this range, you can use a bass clarinet for any type of music that calls for woodwind instruments, including either saxophones or clarinets.
All models in the Odyssey range of high quality brass band and orchestral instruments have been meticulously designed down to the finest details by Peter Pollard. It's hardly surprising that, with over 50 years experience and having listened to the 'wants' of countless high profile musicians, this master craftsman is one of the most sought after custom brass and woodwind builders in the world.  
At Odyssey, we recognise the significant contribution that an instrument makes to the willingness of a student to persevere, practice, pursue the process of learning to control and master the instrument, enjoy making music and progress. 
The Odyssey Premiere 'Bb' Bass Clarinet is made from a high quality ABS plastic resin which has many advantages.
ABS Pros : 
• Durability 
• Does not crack 
• Longer life 
• No break-in period 
• Can better withstand occasional playing 
• Can better withstand harsher playing environments 
i.e. cold air-conditioning down-drafts in well ventilated band room, for example, or a spring outdoor park concert! 
• Reacts less to moisture and temperature changes
The response and intonation are based on the expectations of teachers and experienced players and the materials have been carefully chosen for the Odyssey Premiere 'Bb' Bass Clarinet to enhance the sound and playability of the instrument, and the highest quality European pads and springs are used. Even the strict testing of the most suitable Ligature set up was tested in France by BG. So the instrument includes in the outfit a BG – L9SR Super Revelation Ligature.
As a company producing some of the world's finest brasswind instruments, Odyssey recognise the fact that protection whilst travelling with a delicate instrument is paramount. To ensure players can maintain a high standard with this instrument, Odyssey has included neck strap, cleaning and pull through cloth, whilst a plush lined, Zero-gravity 'backpack' hard foam, canvas covered case with shoulder straps takes all the worry out of commuting with such a delicate instrument
Specification 
ABS/wood composite body

Boehm system – range to low C

Bore size: 0.905"/23mm

Fully automatic octave key

Silver-plated key work

Mouthpiece and cap

BG – L9SR Super Revelation Ligature

Zero-gravity 'backpack' hard foam, plush lined, canvas covered case with shoulder straps 

Accessories: Neck strap, cleaning cloth, pull through cloth
Taking proper care of your instrument will also help you produce the best sound quality possible, we recommend Odyssey and Ultra-Pure brand accessories.
Odyssey Brasswind is designed and created by UK Master Craftsman Peter Pollard and the UK Odyssey design team.
---
About Odyssey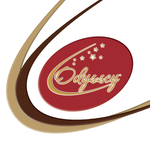 Exceptional instruments and essential accessories for students and advanced players. Odyssey Brasswind instruments and accessories have been painstakingly designed by British Master Craftsman Peter Pollard, one of the most sought after custom brass and woodwind builders in the world to produce instruments of breath-taking quality and supremely useable accessories. More...