The fundamental difference between the Cornet and the Trumpet is in the shape of the bore. On a  Trumpet  the bore is Cylindrical, with a consistent diameter throughout the instrument. In contrast, a  Cornet  has a Conical bore which gradually increases in size down the length of the tubing. Cornets produce a more mellow sound due to their tightly wrapped tubing and conical bore.  
All models in the Odyssey range of high quality brass band and orchestral instruments have been meticulously designed down to the finest details by Peter Pollard. It's hardly surprising that, with over 50 years experience and having listened to the 'wants' of countless high profile musicians, this master craftsman is one of the most sought after custom brass and woodwind builders in the world.  
With a luscious silver-plated brass body, offset with gold lacquered parts, including the slide, bottom and top caps, finger buttons and water keys, the aesthetics of the 'Bb' Cornet from the Odyssey Premier Series speak for themselves.  
A real eye catcher without doubt, but it's also the performance to cost ratio that make this beautiful cornet a winner. Players from students to seriously professional musicians have commented on the excellent response and superb intonation and the high quality materials chosen in the construction. 
With all the characteristics associated with a cornet including the short travel tube to the 1st valve/ 3rd valve, to aid tuning the Odyssey Premier 'Bb' Cornet is extremely comfortable to play, even for musicians with large hands. 
Luxurious appointments also include a mouthpiece from a series hand-built to an extremely high standard by Denis Wick and regarded by musicians as arguably the world's finest. With meticulous attention paid to the rims for comfort and consistency, each mouthpiece, with beautiful and extremely hard-wearing silver and gold plating, delivers a pure honey sweet tone with a rich, mellow voice that has a colourful role in brass bands. Punching dynamics that sit in the higher register add a new dimension when playing obbligato over the top of a musical arrangement.  
As a company producing some of the world's finest brasswind instruments, Odyssey recognise the fact that protection whilst travelling with a delicate instrument is paramount. To ensure players can maintain a high standard with this instrument, Odyssey has included gloves and a cleaning cloth, whilst a plush lined, Zero-gravity 'backpack' hard foam, canvas covered case with shoulder straps takes all the worry out of commuting with such a delicate instrument.
Specification 
Silver-plated with gold-plated slide

Gold-plated bottom and top caps

Nickel inner slides

Triggers on 1st and 3rd slides

Gold-plated buttons

Two water keys

Monel valves

Pollard bell

taper

 

Denis Wick Classic mouthpiece 5881-4

Bell diameter: 119mm/4.68"

Bore size: 11.73mm/0.46"

Zero-gravity 'backpack' hard foam, plush lined, canvas covered case with shoulder straps

Accessories: Gloves, cleaning cloth
Taking proper care of your instrument will also help you produce the best sound quality possible, we recommend Odyssey and Ultra-Pure brand accessories.
Odyssey Brasswind is designed and created by UK Master Craftsman Peter Pollard and the UK Odyssey design team.
---
About Odyssey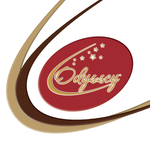 Exceptional instruments and essential accessories for students and advanced players. Odyssey Brasswind instruments and accessories have been painstakingly designed by British Master Craftsman Peter Pollard, one of the most sought after custom brass and woodwind builders in the world to produce instruments of breath-taking quality and supremely useable accessories. More...