The euphonium is a versatile brass instrument and can often be found in brass bands, concert bands and the classical orchestra. Because of its mellow tone, that sits between the horn and the tuba, it is popular as a solo instrument. 
All models in the Odyssey range of high quality brass band and orchestral instruments have been meticulously designed down to the finest details by Peter Pollard. It's hardly surprising that, with over 50 years experience and having listened to the 'wants' of countless high profile musicians, this master craftsman is one of the most sought after custom brass and woodwind builders in the world.  
The quality of the OEP1500's brass and the strong stays make this a very sturdy build, that can be felt when you hold it. 
With its 13"/330.2mm diameter bell, the Odyssey Premiere 'Bb' Euphonium has a superb, wide sound projection and excellent voicing within the mid-frequencies. Delivering honey sweet tones that sing between the horn and tuba, this gorgeous instrument with a striking silver plated brass body, gold lacquered brass caps slides and water keys, is equally at home as a solo instrument, or in ensembles, whilst also having a significant role in traditional brass bands. 
Whilst the visual concept of the Odyssey Premiere 'Bb' Euphonium is indeed, stunning, Odyssey has paid meticulous attention to the playability of this superb instrument. The unrivalled depth and tone is enhanced with a 'super smooth to operate' compensating four valve system, improving air flow, enhancing the lower registers and assuring accurate tuning and intonation through the range. A real feel good factor. 
Professional brass players have commented on the versatility and response, whilst the conveniently positioned leadpipe and mouthpiece has proven beneficial for beginners and students. 
Luxurious appointments also include a Denis Wick mouthpiece, regarded by musicians as arguably the worlds finest, hand-built to an extremely high standard, with meticulous attention paid to the mouthpiece rim for comfort and consistency. 
As a company producing some of the world's finest brasswind instruments, Odyssey recognise the fact that protection whilst travelling with a delicate instrument is paramount. To ensure players can maintain a high standard with this instrument, Odyssey has included gloves and a cleaning cloth, whilst a plush lined, robust zero-gravity 'back pack' hard foam, canvas covered case with shoulder straps, takes all the worry out of commuting with such a delicate instrument. 
Specification  
• Silver-plated body  
• Gold Lacquered caps and slides  
• 4 valves – compensating  
• 3 water keys  
• Denis Wick Classic mouthpiece 5880-4AL  
• Bell diameter 13"/330.2mm  
• Zero-gravity 'backpack' hard foam, plush lined, canvas covered case with shoulder straps 
• Accessories: Cleaning cloth, gloves
Taking proper care of your instrument will also help you produce the best sound quality possible, we recommend Odyssey and Ultra-Pure brand accessories.
Odyssey Brasswind is designed and created by UK Master Craftsman Peter Pollard and the UK Odyssey design team.
---
About Odyssey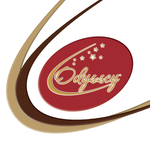 Exceptional instruments and essential accessories for students and advanced players. Odyssey Brasswind instruments and accessories have been painstakingly designed by British Master Craftsman Peter Pollard, one of the most sought after custom brass and woodwind builders in the world to produce instruments of breath-taking quality and supremely useable accessories. More...