Be even more versatile on the versatile tenor trombone! 
 
Usually maintaining the same traditional medium-large to large bore size of 'standard' tenor trombones, a trombone that has an attachment of additional tubing allows the player to play chromatically throughout its musical range.  Using a 'trigger' valve, the player can re-direct the airflow through the instrument into the additional tubing whilst playing slide positions nearer to the mouthpiece. 
All models in the Odyssey range of high quality brass band and orchestral instruments have been meticulously designed down to the finest details by Peter Pollard. It's hardly surprising that, with over 50 years experience and having listened to the 'wants' of countless high profile musicians, this master craftsman is one of the most sought after custom brass and woodwind builders in the world.  
There are many good reasons why this gorgeous Bb/F Tenor Trombone from the Odyssey Premiere Series is a firm favourite, and popular with musicians in the world of brass.  
Visually, the Odyssey Premiere Series Bb/F Tenor Trombone is stunning, with a gorgeous rose brass bell and brass body, highlighted with a stunning lacquered finish, whilst an added F valve section, allows the player to reach an extended range of lower notes. 
With a generous 8.44"/214.4mm diameter bell, and a larger bore size of 0.547"/13.9mm, with the POLLARD venture, the full range is honey sweet with warm, rich overtones that are also popular with classical horn players.  
The most distinguishing part of a trombone is of course, the all important slide, effective for producing note vibrato, one of the most recognisable sonic characteristics of the trombone. The Odyssey Premiere Bb/F Tenor Trombone features a cupronickel slide, super smooth to operate and with the ability for the player to effortlessly create fast or slow vibrato and how wide the note should be.  
The response, intonation and all around performance of the Odyssey Premiere Bb/F Tenor Trombone coupled with the high quality materials, make this an ideal instrument for the first time player, teacher, or the most experienced musician. 
As a company producing some of the world's finest brasswind instruments, Odyssey recognise the fact that protection whilst travelling with a delicate instrument is paramount. To ensure players can maintain a high standard with this instrument, Odyssey has included gloves and a cleaning cloth and rod, whilst a plush lined, robust zero-gravity 'back pack' hard foam, canvas covered case, with shoulder straps takes all the worry out of commuting with such a delicate instrument. 
Specification 
Rose brass bell

Brass Body

Clear lacquer finish

Cupronickel slide

Mouthpiece

Bell Diameter: 8.44"/214.4mm

Bore size: 0.547"/13.9mm

Zero-gravity 'backpack' hard foam, plush lined, canvas covered case with shoulder straps


Accessories: Gloves, cleaning cloth, cleaning rod
Taking proper care of your instrument will also help you produce the best sound quality possible, we recommend Odyssey and Ultra-Pure brand accessories.
Odyssey Brasswind is designed and created by UK Master Craftsman Peter Pollard and the UK Odyssey design team.
---
About Odyssey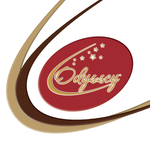 Exceptional instruments and essential accessories for students and advanced players. Odyssey Brasswind instruments and accessories have been painstakingly designed by British Master Craftsman Peter Pollard, one of the most sought after custom brass and woodwind builders in the world to produce instruments of breath-taking quality and supremely useable accessories. More...