Two Trumpets on one - Comes with extra B flat slides 
B-flat and  C Trumpets  are the standard trumpets commonly  seen. In bands, the B-flat  Trumpet  is king, whereas the  C Trumpet  is much more common in the orchestra and in Europe. The  C Trumpet  is written at concert pitch, allowing the trumpet to follow the vocal or piano score, while the B-flat sounds a second lower than written.  
All models in the Odyssey range of high quality brass band and orchestral instruments have been meticulously designed down to the finest details by Peter Pollard. It's hardly surprising that, with over 50 years experience and having listened to the 'wants' of countless high profile musicians, this master craftsman is one of the most sought after custom brass and woodwind builders in the world.  
The attractive price tag, (Basically two trumpets for the price of one - Bb/C) generous bore size (0.46"/11.73mm) and the smooth operation of the Monel valves, are just a few of the features that have made the Odyssey Premiere 'C' Trumpet a favourite with musicians around the world. The bore size alone combines the best of projection volume and air flow, delivering an abundance of signature Trumpet sounds with exceptional tonal qualities. 
Red  Brass, also known as  Rose brass has the highest copper content at around 90% and gives a warmer and mellower tone than that of alloys with a higher zinc content.
With a rose brass bell (4.79"/121.7mm and rose brass lead pipe, nickel outer brass tuning slides, water key and Monel valves, the Odyssey Premiere 'C' Trumpet with a clear lacquer finish and two material build is a real eye catcher without doubt, but it's also the performance to cost ratio that makes this beautiful Premiere 'C' Trumpet a winner. Players from students to seriously professional musicians have commented on the excellent response, superb intonation and the high quality materials chosen in the construction. 
The 7c size mouthpiece, with its shallower, medium cup size is ideal for beginners, offering less effort to produce smooth sounds and reach the higher registers, whilst combining the natural deeper, darker tones the Trumpet is known for, tones that are unique among brass instruments and play a major role within orchestras, jazz and commercial bands. 
The response, intonation and all around performance of the Odyssey Premiere 'C' Trumpet coupled with the high quality materials, make this an ideal instrument for the first time player, teacher, or the most experienced musician.
As a company producing some of the world's finest brasswind instruments, Odyssey recognise the fact that protection whilst travelling with a delicate instrument is paramount. To ensure players can maintain a high standard with this instrument, Odyssey has included gloves and a cleaning cloth, whilst a plush lined, Zero-gravity 'backpack' hard foam, canvas covered case with shoulder straps takes all the worry out of commuting with such a delicate instrument. 
Specification 
Rose brass bell and lead pipe

Cupronickel outer tuning slides

Single braced main tuning slide

Monel valves

One water key

Mouthpiece 7C

inc

Clear lacquer finish

Bell diameter: 4.79"/121.7mm

Bore size: 0.46"/11.73mm

Zero-gravity 'backpack' hard foam, plush lined, canvas covered case with shoulder straps 

Accessories Gloves, cleaning cloth

Includes additional tuning and valve slides to allow the trumpet to be tuned to Bb
Taking proper care of your instrument will also help you produce the best sound quality possible, we recommend Odyssey and Ultra-Pure brand accessories.
Odyssey Brasswind is designed and created by UK Master Craftsman Peter Pollard and the UK Odyssey design team.
---
About Odyssey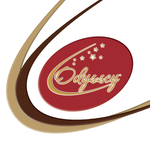 Exceptional instruments and essential accessories for students and advanced players. Odyssey Brasswind instruments and accessories have been painstakingly designed by British Master Craftsman Peter Pollard, one of the most sought after custom brass and woodwind builders in the world to produce instruments of breath-taking quality and supremely useable accessories. More...