Wood Piccolo  vs Silver  Piccolo 
Most professional level  piccolos  are made from  wood, but they also have a conical bore. Most metal  piccolos  have a cylindrical bore.  In the piccolo's  range, the conical bore imparts a sweeter tone, while the cylindrical bore tends toward a shrill tone. 
The  piccolo  is half the size of a  flute and plays higher notes than the  flute  with a range an octave above. It's a member of the flute family, but is a well known instrument in its own right. Whilst it may not be as popular as some of its sibling instruments, the Piccolo is an enchanting instrument with an extremely distinct and beautiful sound. It often lends a light, high-pitched sound to musical pieces. 
All models in the Odyssey range of high quality brass band and orchestral instruments have been meticulously designed down to the finest details by Peter Pollard. It's hardly surprising that, with over 50 years experience and having listened to the 'wants' of countless high profile musicians, this master craftsman is one of the most sought after custom brass and woodwind builders in the world.  
At Odyssey, we recognise the significant contribution that an instrument makes to the willingness of a student to persevere, practice, pursue the process of learning to control and master the instrument, enjoy making music and progress. 
The Symphonique 'C' Wooden Piccolo with its attractive price tag, and Pollard headjoint has made the Odyssey Piccolo a favourite with musicians and teachers around the world. Designed by Peter Pollard to be easy blowing, with great tonality and exceptional playability, ensuring those first steps are giant leaps.  
As a company producing some of the world's finest brasswind instruments, Odyssey recognise the fact that protection whilst travelling with a delicate instrument is paramount. To ensure players can maintain a high standard with this instrument, Odyssey has included a cleaning cloth and rod, whilst a plush lined, Zero-gravity hard foam, canvas covered case with shoulder strap takes all the worry out of commuting with such a delicate instrument.
Specification 
• C key  
• Wooden body  
• Pollard Headjoint 
• Quality French pads and springs  
• Silver-plated keywork  
• Zero-gravity hard foam, plush lined, canvas covered case with shoulder strap 
• Accessories: Cleaning cloth, cleaning rod 
Taking proper care of your instrument will also help you produce the best sound quality possible, we recommend Odyssey and Ultra-Pure brand accessories.
Odyssey Brasswind is designed and created by UK Master Craftsman Peter Pollard and the UK Odyssey design team.
---
About Odyssey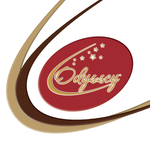 Exceptional instruments and essential accessories for students and advanced players. Odyssey Brasswind instruments and accessories have been painstakingly designed by British Master Craftsman Peter Pollard, one of the most sought after custom brass and woodwind builders in the world to produce instruments of breath-taking quality and supremely useable accessories. More...