Thalia Exotic Series Shell Collection Capo ~ Black Chrome with Crimson Paua Inlay.

Thalia Capos comes with:

• Standard Tension Rubber Fretpad Tuning Kit for 6-string guitars
• High Tension Rubber Fretpad Tuning Kit for 12-string guitars
• Quickstart Guide
• Sticker
• Thalia 1.4mm Exotic Wood Guitar Pick

---
About Thalia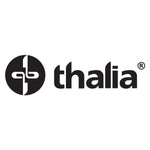 Thalia Capos are made available in Chrome, Black Chrome, and 24k Gold finishes. The capos are beautifully decorated in various mixtures of Exotic Shell and Wood Inlays along with UV Printing to complement the look of a player's guitars.
The patented reverse action mechanism allows for easy installation and movement on fretted instrument fingerboards. The capos ship with two versions of the patented OctaveTouch Universal Fret Pads which mimic the elasticity of the human finger. The Standard-Tension version comes installed and works best with 6-String Guitars, while the High-Tension version works best with 12-String Guitars, Mandolins, Ukes, and thin neck Guitars.
For enhanced fine tuning, Interchangeable Fret Pads are available to match the specific radius of almost every Guitar on the market.