Sometimes you know how a guitar is going to sound just by looking at it. So what kind of noise do you expect from this Joe Doe Gas Jockey, with its classic 50's car styling and gas pump colours? Rumbling low end? Muscular chug in the rhythm position? Screeching highs, like a teen blowing donuts in his dad's '59 Chevy El Camino in the grocery store car park? All that and more. So whether you choose the gas pump red or the sparkling gold sand model, the Joe Doe Gas Jockey sets up a musical expectation of thumping, humping and pumping rock n roll and delivers it with ease.
So what's the origin story behind the Joe Doe Gas Jockey? Well, it all began on a gas station forecourt in 1960…
The Story
Wally 'Songman' Saban is a living, breathing, human jukebox. Pull up into his New Jersey gas station on Fellowship Road and he'll not only fill your car with gas, but will play any song you can think of on his electric guitar. How is it possible? Well, for the sixty three years Wally has worked on the station forecourt, he's been accompanied by music from his AM radio playing Billboard hits of the day. He only needs to hear a song once before the notes become transcribed and etched into his musical DNA. There's a weathered sign hanging over the entrance to the station - Challenge Wally for 5 dollars. If he can't play your song, then gas is on him. Locals know not to take the bait but if you're new to town, you'll try your luck, suggest something obscure from the 70s... and end up 5 bucks worse off. 
Wally has only lost the challenge once, when he failed to play a request from Loretta Marshall in 1982. She left with a free tank full of gas, and Wally got her number. They've been together ever since.  
The Specs
Body:
Offset mahogany body finished in Gas Pump Red with white binding.
Pickups:
3 x Wilkinson WOCMHB mini-double coils. 
Controls:
Volume/Volume/Tone and 3-way selector.
Hardware:
Gold Wilkinson hardware; T.O.M bridge, WJ55 tuners.
Neck & Fingerboard:
Glued in maple neck for bright snappy tones with finger friendly 12" radius, 635mm scale length and 22 frets.
Genuine rosewood fingerboard with pearloid block fret inlays.
Nut:
43mm GraphTech nut, as slippery as an oil spill.
Case: Joe Doe luxury solid hardcase with custom stickers.
Certificate: Certificate of authenticity included.
Limited Edition of 100 'Gas Jockey' is an original Vintage® guitar, designed and created by Joe Doe Guitars and the UK Vintage design team.
---
---
About Joe Doe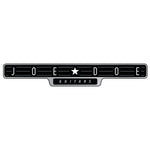 Joe Doe Guitars, maker of unique custom guitars with amazing back stories built in have teamed up with the Vintage® design team to create the 2023 Collection, a series of limited-edition guitars (just a hundred of each) that are hands down, like nothing you've ever seen before!

Constructed using the highly regarded Vintage® V6™, V52™, V100™ and V4™ chassis, Ben Court, originator of Joe Doe Guitars has applied his signature blend of art, design, and tall storytelling to create guitars with a history, character and soul all of their own, made to play as well as they look, and sound as good as you'd expect from a Vintage® guitar. So, when a Joe Doe Guitar is hanging on your wall it's a work of art to be admired and discussed in hushed tones and when it's hanging off your guitar strap, it's pure musical inspiration.

Each Joe Doe Guitar features a characterful origin story, custom artwork, unique design details, Wilkinson hardware and pickups throughout, and a Joe Doe branded hard case.

Each guitar comes with an individually numbered authentication certificate and extra special 'case candy'.

You can read the article with designer Ben Court Here.